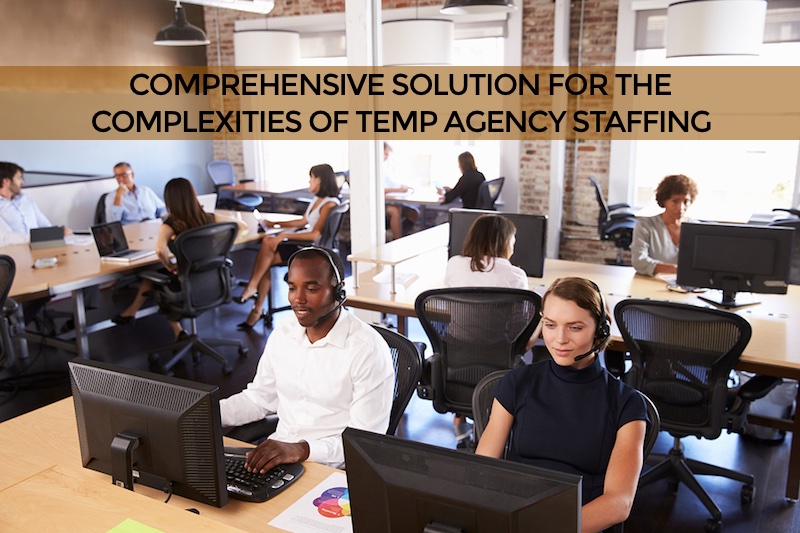 Today's post describes a business that, by its very nature, demands a robust Workforce Management system. As more and more companies hire temporary contractors as part of their business strategy (as opposed to an occasional stopgap fix during a staffing emergency), savvy temp staffing firms can capitalize on the situation and expand and diversify.
Consider the unique logistics of our example business. While some staffing services specialize in just one industry—such as health care—this 12-year-old agency has entered new markets steadily for the past few years. They currently place administrative assistants, computer programmers, call center staff, manufacturing workers, machinists, child care providers, and substitute teachers.
With a constant turnover of contract workers and offsite punch ins as the norm, this agency couldn't cope with their timekeeping and scheduling system. Though it was partially automated, the technology was 10 years old and it couldn't provide the number of job codes they required. The mobile app malfunctioned frequently and didn't support the latest time clocks.
A staffing agency simultaneously serves two classes of clients; the temp workers they place and the companies who use the workers. Each of the players depend on the firm for accuracy. The business owners don't want to overpay the temps, and the hourly contractors are, understandably, especially sensitive to timekeeping accuracy.
Solution – Baron Workforce Management Suite
The Baron Workforce Management Suite time and attendance tool, Baron Time, swiftly solved a multitude of problems. The Baron Workforce Management Suite mobile app allows contract workers to punch in on their mobile device wherever they are. Because the PunchLogic function has virtually eliminated missed and duplicate punches, timekeeping accuracy has improved significantly.
Scheduling Made Easy With Baron Workforce Management Suite
Temp worker hours are managed with customizable system warnings and there are nine pay-rate fields and employee groups/sorting/filtering for easy organization and oversight.
Baron Time is customizable for the various lunch and break policies of the businesses they serve. The agency personnel can see what's going on with all of their temp contractors in real time on any given day.
With the recent rise in ransomware hackings and other data security threats, the firm puts a premium on data security and values the peace of mind provided by Baron Workforce Management Suite.
Baron Workforce Management Suite is the ultimate Workforce Management system for staffing agencies. With Workforce Management under control, now they can focus on serving even more markets while keeping established clients satisfied.
UPGRADE TODAY
baronHCM offers WorkforceHUB, the unified Human Resources portal that makes it easy to optimize the performance of your supervisors, employees, and organization.
WorkforceHUB includes Baron Time, Baron Scheduling, Baron Mobile, and ApplicantStack. We've just added recruitment, onboarding, benefits enrollment, performance reviews, and employee engagement! WorkforceHUB is designed for busy employers like you who need to reduce cost-per-hire, streamline scheduling, automate time tracking, maintain regulatory compliance, and reduce labor costs.
We can get you up and running with Baron Workforce Management Suite in minutes. Contact us today to set up a demo.