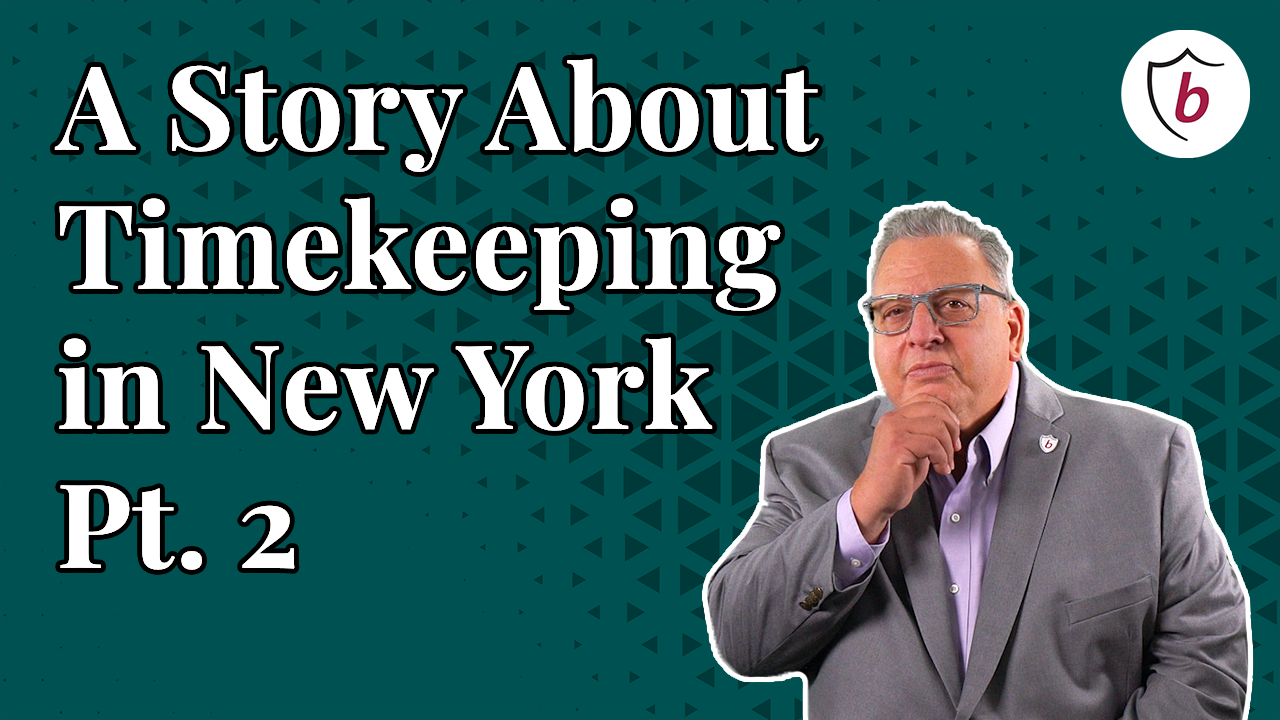 In our last video, we discussed the need to track your employees' time. Are you doing it in the best and most efficient manner? Most NY businesses are not. Stick around and find out the best way.
Hi, I'm Larry Kagan with Baron Payroll. I want to tell you a real story about one of our clients who already had a time & attendance system.
They are a construction company here on LI with about 20 employees. They were working with one of the national payroll companies, Paychex.
The owner knew he needed a timekeeping system, so he did the natural thing – he called Paychex, his payroll company. What a disaster, he said. They charged him $2500 for a "time clock in a box" and shipped him a time clock. He had to install the clock himself and told me he had to hire an electrician to connect the time clock. No one taught him or his staff how to use the time clock, so it never worked correctly.
The real kicker was after he got the time clock, he saw that his payroll person was still spending hours on the phone calling in payroll. He told me that made no sense. Why does she still have to call the hours into Paychex when they have a time clock? So then, one of his friends told him about Baron, and he called us.
We went to his office and installed a face clock for a fraction of the price he paid for his "time clock in a box" from Paychex. We set the whole thing up for him and taught his staff how to use the new system. Now his employees clock in and out, and the hours automatically populate and create the payroll input. No more wasting time or making mistakes calling in payroll.
A similar thing happened with another client of ours. They are a big retail store with many locations here in NY. They were using ADP for payroll and timekeeping, and it wasn't going well.
ADP has two separate systems- one for payroll and a second, completely different system for timekeeping. This poor woman had to log in to timekeeping, and when she signed into payroll, ADP's system would kick her out of the timekeeping system. She couldn't work in both systems at the same time. She was so frustrated and had to spend hours and hours going in and out of both systems. What a waste of time. It was a nightmare for her.
This person knew better because she used to work with Baron at her previous job. She called us, and we moved her onto Baron's single platform. Now she has one login for payroll, timekeeping, and HR. She logs in once and has access to payroll and timekeeping in the same system. So what used to take her hours with ADP now takes her minutes with Baron.
You might be asking yourself… How about the employees? Can they also use one login to access everything for payroll, timekeeping, and HR?
YES, they can. With Baron, every employee has one login, simplifying our client's work life.
What if an employee only speaks Spanish? Can Baron accommodate them?
Yes, each employee can be set to English or Spanish. So, when Spanish-speaking employees log in, they will see everything in Spanish - including their pay statements.
Fortunately, this woman had worked with Baron before and knew there was a better way. Maintaining two separate payroll and timekeeping systems is not the best solution for NY businesses. Having payroll and timekeeping in one system costs the same, so why struggle?
To find out more about working with Baron Payroll, call Bill Elkins at 631-266-2500 or email Bill at bill@baronpayroll.com.
To learn more, visit our website at www.baronpayroll.com and check out our learning center. Thanks for watching!